oscarpetersen.dk
Personal blog for Michele and Svend Oscar Petersen
Sunday, November 30, 2008
Japan travel advise
Before going to Japan, you might consider the following.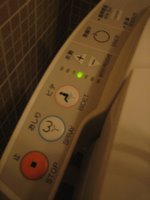 Toilets
: Be prepared for different style of toilets. You have no idea of what kind of technologies they can fit into these. The one on the picture has a "Stop"-button; I you start something you did not know about use thosbutton. Two different spray buttons; one for number 1's and one for number 2's. Music and cover sounds so people can not hear you...
Ironing: Bring your own ironing board, or if you do not have the space, bring knee pads.


Sushi: Be prepared for sushi for breakfast, lunch and dinner. But don't worry. If you do not like sushi there are plenty of other fish dishes to choose from...
Pasfoto til Baby
Nu skal alle babyer have eget pas i Danmark, og der gælder samme regler for pasbilleder som til voksne. Men je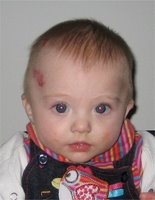 g skal hilse og sige at det ikke er helt nemt at tage pasbillede af en lille pige på 5 måneder. For det første skal øjnene være åbne, munden lukket, må ikke smile, se ind i kameraet, ingen arme i luften... umuligt. Man kan se
kravene for pasfoto her
, og
link til ansøgningsskem
a
til dansk pas.
Billedet til venstre er vores bedste bud på et egnet pasbillede, men nu må vi se om de køber den... Der er godt nok en lille skygge på væggen til højre for hende og hun har et lille smil på.